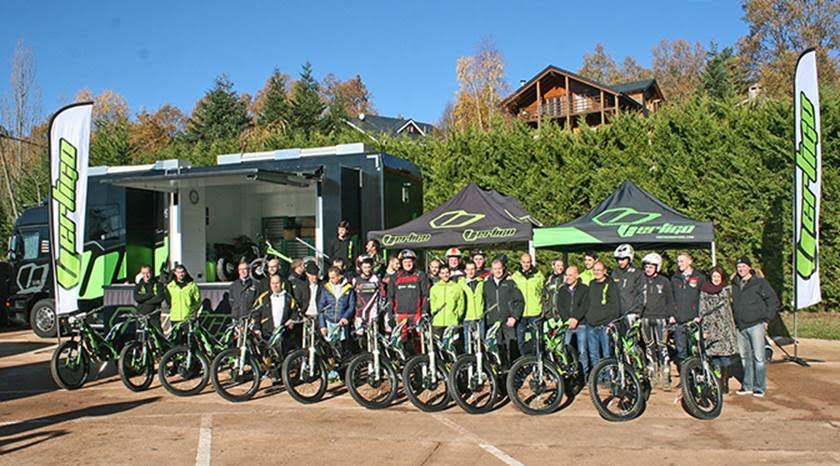 For the second year running Vertigo Motors used their fantastic Noassar area – Camprodon, Spain – that will host the opening TrialGP of 2017 – to share with its global distributors / dealers, international media and end users its new model range. The 2017 Vertigo machines were put through their paces and enjoyed by all that took the opportunity to truly appreciate their performance over what was a hugely successful five-day event.
An extensive fleet of test bikes was made available for all to ride, which included the 2017 versions of the already established Vertigo Combat range including the Camo – Ice Hell – Titanium RR models, plus the all new Vertigo Vandal range.
Factory Vertigo rider Jeroni Fajardo, better known for his Trial skills, gave everyone the chance to see the revolutionary Ursus in action, before then teaming up with James Dabill and Dougie Lampkin to show the true potential of both the Combat and Vandal when in the right hands.
Members of the Crossbow team – who recently became Cyclo Trial World Champions – were also present and gave their own demonstration of extreme pedal power that was appreciated by those who got to see these guys in action.
Hotel Puig Franco once again provided the perfect setting for the guests as they got to experience this amazing eighteen room hotel – where each room is dedicated to a Trial Legend and that sits within the Noassar area and enjoys unrivalled mountain views and now boasts a fully appointed spa and swimming pool – click here for more details.
Guests were also able to enjoy some incredible food as Restaurant Mitic – found within Hotel Puig Franco – served up some exceptional authentic and traditional cuisine that changes with the seasons and reflects the surrounding landscape – click here for more details.
Speaking after the event Vertigo Motors Sales Manager Santi Diamant said. "There is no doubt, the launch has been a big success once again. We have an incredibly strong 2017 range that was loved by everyone who rode the various models. To be able to host both our distributors / dealers and media at such an incredible place confirms Vertigo's strong commitment, passion and continued investment in their Trial project."
"Equally we are delighted to announce that Noassar with its one thousand hectare plus Trial training area based in the mountains that surround the town of Camprodon will also host the opening TrialGP in May 2017."
"Finally from all of the team at Vertigo Motors we would like to thank everyone that attended the event over the five days, and to confirm how much we are looking forward to continuing to work with our extended Vertigo family over the coming months and beyond."