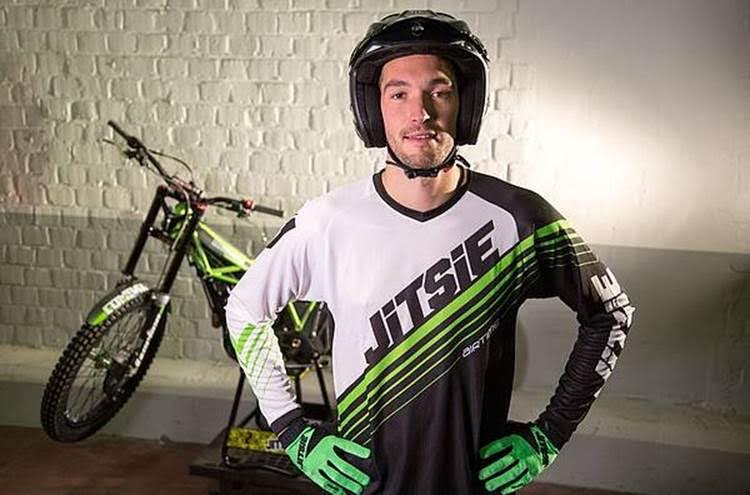 How did the meeting go with Vertigo?
During the Trial de Nations I have been thinking and I really wanted to return to the top level, to take the world championship. So I toured the brands to see different structures and it is true that when you see the VERTIGO truck it is really impressive! Then I have met Julien Panabière (French importer) and the relationship feels good  right away, from there we began discussing plans for 2016.
What arguments did they have to make up your mind to ride the VERTIGO Combat?
At first they told me to come try the bike and from there I realized that the bike was to the point and really successful. Then I went to the factory, I visited the race department where I could interact with Dabill, Fajardo, Lampkin, Moret on the motorcycle and the atmosphere of the team. I also met Manel Jané, he told me about all his projects, his ambitions. This is a great team of enthusiasts with a huge motivation. Everyone advances together and it was impossible for me not to accept this project.
How long have you signed to Vertigo?
For now a season, but everyone knows my brand loyalty, I stayed for 12 years at Beta, and also for me with Vertigo it will also be a long-term project. Now the VERTIGO team are already attending the WTC with full race support and this is required for me to ride hard in 2016 to be among the best at the end of the year.
What will your sports program for this season?
Well I will continue the Expert championship of France, also on the world championship in the pro world formal structure, and some classics.
What are your goals?
In France Championship, the title of course, it's been two years since I was training because of my injuries and my professional choices, now I'm extremely motivated, as are the rest of the team and I will give maximum effort for this title. World Championship, I think a top 10 is possible but for a comeback after two years of absence the goal is to remake my place among the tops and closer to the best.
Who will be your Minder?
On almost all races will obviously Berthou Richard, who made every effort to free himself for me. This is the best minder for me in France, never a wrong word and motivated at 200%. It's important to me that my team is always impeccable in France to the commissioners, competitors, organizations.
Respect is very important in sport and it sets an example for future generations.
There will also be the Trial Davy Toussaint school in La Bresse which is always available for me and my father with whom I share a lot and Julien Panabière which is also motivated fully behind me.
There will be a Vertigo structure on the France championship and the Classics?
For France it is the importer (J.Panabière) who is responsible for the structure, he is a very passionate person that I trust 100%. He helps me a lot for my season and it is a great pleasure to travel with him to all of the France championship races and the classics.
You have visited the Vertigo facilities in Spain, What did you think?
The plant is really great, it is based near Barcelona, ​​it is separated into two parts, one side with production facility the other side with the RACE department. Both plants are new,  everything is spotless, clean and super tidy. They also have available buildings next door to enlarge the production line. You feel the expansion is coming soon …
What reception did you receive?
Great, I went to the factory with J. Panabière and were immediately greeted by the sales manager, then also Manel Jane in person who came and showed us around the premises, its projects, and motorcycles. The relationship feels good right away, together we went to eat and after we talked for season 2016. They are people very attentive and really want to move in the same direction. If you adhere to the project, you adhere to the Vertigo philosophy which is based on passion, performance and professionalism. 
How is the boss?
He is one with whom you can talk openly. He likes to be informed of everything, be close to his riders and of course love the sport of trials more than anyone. I was surprised by his motivation to always evolve his  projects. It is a pleasure to work with him, and it motivates me more for competitions.
Dougie Lampkin?
I already knew Dougie from the World Championships and my father knows the Lampkin family. He's a legend and an enormous charisma. When I was little I was running the around the sections to follow Doug and now I have the chance to work with him. It is a dream. Dougie is also a great gentleman, this week I am developing the bike at the factory and to prevent me from returning to Perpignan every night, he invited me to stay at his hotel with him in Spain near the factory Gentleman!
How will you organize yourself to train, will you move?
No, I'm too attached to my family, my friends, my girlfriend. During the winter, I'll will be spending, two weeks in intensive trainings in Spain Camprodone (the vast private land Manel Jane ed) with the drivers of Team Vertigo and two weeks I'll be home to train with my minder.
Vertigo presented a huge range at the show in Milan, what will be the model on which you'll ride, Titanium, Ice Hell, Combat, Vandal?
All !! The WTC is limited by weight so I will ride with the Combat. It is the only one to pass over the regulatory 69 kilos.
Expert Championship in France I'll ride with the Combat but ICE HELL it is 3 kilos lighter.
On conventional classic rides we have not yet decided but the Vandal would be a good choice, it has an electric starter and a larger tank so it is more suitable for this kind of race.
And for the Titanium, we also test the bike, the frame is made of titanium so it must be seen in terms of rigidity. But the bike is a marvel of technology, you feel compelled to zero each section because you do not want it falling into the rocks !!! 
What are the qualities of these bikes?
The diversity first. Each motorcycle to his specialty but all are capable of crossing the areas of the world while being adapted to the amateur level. The injection brings a lot to these bikes with the diversity of available maps the bike can adapt to different areas by simply pressing a button. They also offer incredible stability and a high quality clutch. These are accomplished bikes with impeccable finishes.
Scottish 6 days or classic Aveyron?
Neither … The official calendar has fallen and it is impossible to defend my title in the Classic, Aveyron which falls during the six days of Scotland but also during a championship … EXPERT France and Creuse falls during the World Championship England.
It is unfortunate that the timing is done well, we are professional drivers, we live our sport and not be able to bring or defend a title we removes the aid of different sponsors to finance our season.
What will be your first official release with Vertigo?
From this weekend in Ibiza where I defend my title obtained last year. I will be riding a Combat CAMO and I will be dressed in outfits form JITSIE and Alpinestar boots.
Are you happy?
Very happy and eager to show in France the qualities of this bike.